Google Hangouts v2 for iOS gets an iOS 7 redesign and iPad support
12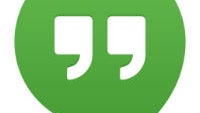 Every week, there are new app updates from Google, and most are little more than bug fixes and minor updates. But, this week Google has already pushed out an impressive app update that added a number of features to the
Photos section
of the Google+ app for Android, and now we're getting a major redesign of the Hangouts app for iOS.
The update brings Hangouts to version 2.0. The redesign is one that was expected, and makes Hangouts look more at home with the new iOS 7 UI. The app is flatter and layered. Also the redesign has added full iPad support for the app. In addition to the visual update, iOS users can now use emoticon stickers to convey how they are feeling.
Users can also send a map of their current location, to make it easier for meetups and such. The last piece of the update is an interesting one: video messaging. Of course Hangouts has always had video chat, but now you can record and send short videos up to ten seconds. That's a pretty nice feature, and quite interesting because it is a feature that is exclusive to the iOS version of the app right now. We assume that video messaging will come to Android soon though.