Google Drive vs SkyDrive vs iCloud vs Dropbox vs SugarSync: cloud services comparison
33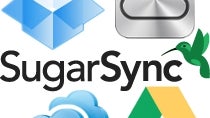 We've been waiting for years for Google to come up with its mythical
Drive cloud storage service
, and it arrived yesterday. Google is downplaying it as an expansion of its Docs service, trying to lull the enterprise folks (where the money is) by also offering up to 16TB of cloud storage - for a price.
Now the big three in Silicon Valley - Apple, Google and Microsoft - all have their own clouds to go along with their mobile operating systems. They are, however, treading on the turf of third party services like Dropbox, SugarSync and others, which became immensely popular and cross-platform, while the big boys were mulling their own solutions.
Not everybody is comfortable with their data in the cloud, but given how phone makers are omitting microSD card slots lately, we might have to skew the hybrid usage of local vs cloud a bit in the online direction, so we decided to tabulate what those frothy white condensed water vapor thingys floating in faraway servers have to offer.
We used the annual price for the respective services and rounded up to the next dollar for easier comparison, although some services like Dropbox and SugarSync offer both monthly and discounted annual subscriptions, whereas Google Drive only offers monthly payment options.
Recommended Stories