Google makes it possible to bring all Android apps to Daydream VR
2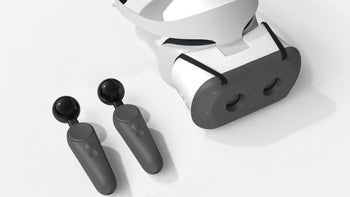 In an effort to make
Daydream VR
even more relevant, Google has just announced that it has added the option to open any smartphone Android app on a Daydream device to use games, tools and more in VR. Thanks to the newly added support for Android App in VR, devs will also be able to add
Daydream VR support
to any existing 2D app without having to rewrite the code.
Google also announced that Lenovo's
Mirage Solo
is getting support for six degrees of freedom (6DoF) controllers, and a see-through mode. Google created a pair of physical 6DoF controllers that work with the Mirage Solo, and have given them to some lucky developers.
With the help of 6DoF tracking, you'll be able to move more naturally in VR, almost like in the real world, something that was only possible with expensive PC-based VR featuring external tracking.
The see-through mode enables users to see what's in front of them in the physical world while wearing a
VR headset
. The new more benefits from Google WorldSense technology for a more accurate, low latency tracking.
According to Google, combining both the see-through mode and Mirage Solo's tracking technology will enable developers to blend the digital and physical worlds in new ways by building AR (augmented reality) prototypes.
Developers in the United States can find out more about these new technologies and/or apply for an experimental 6DoF controller developer kit at the source link below.