For every child born in the U.S., 30 Android devices are activated
17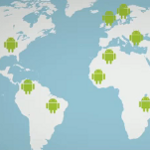 With 350,000 Android phones and tablets being activated each day, there are now 30 Android units purchased daily for every child born in the U.S. Just four months ago, there were 200,000 Android devices being activated daily. The popularity of Google's open source OS remains strong and continues to grow.
From the launch of the G1 to the release of the "worlds most powerful smartphone"-the Motorola ATRIX 4G-Android has come from nowhere to reach its current heights. As we
reported
, according to Nielsen, from November 2010 through this past January, Android held a leading 29% share of the U.S. smartphone market, 2 percentage points ahead of iOS and BlackBerry.
What does the future hold for Android? Click on the video to see.
source:
AndroidGuys