Google announces more Assistant improvements coming to smartphones
1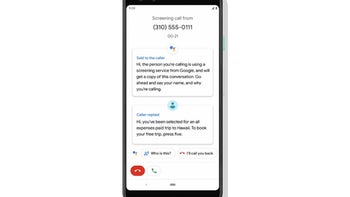 With all the new stuff that
Google announced this week
, you might have missed some slightly less important products that the Mountain View company plans to launch in the coming months. To make it easier to track everything that's coming to those using Assistant-powered devices, Google published some sort of recap blog post that contains information about several Google Assistant new features and improvements coming to smartphones soon.
Four important new features will come to smartphones in the coming weeks, but the first – Screen Call will come to
Pixel 3
this month and to Pixel 1 and
Pixel 2
in November. If you haven't read
our previous report
, you might want to know that Screen Call lets Google Assistant help users with spam. So, when you get a call from an unknown caller, tap "Screen call" and Google Assistant will take over and you will receive a transcript of the caller's response in real-time.
Another nifty improvement that's coming to all smartphones with Google Assistant is
Visual Snapshot
, which will allow you to see event recommendations, as well as check your recent notes and lists and get important reminders from the visual overview. Simply tap on the icon in the top right corner of the screen after you have activated Google Assistant or swipe up.
Furthermore,
Pixel 3
owners will be able to use Google Assistant without having to unlock their smartphones. Make sure to enable this feature from the Assistant settings to take advantage of the feature in the lockscreen.
Finally, Google announced that later this year,
Pixel users
in New York, Atlanta, Phoenix, and the San Franciso Bay Area will be given the chance to experiment with a new Google Assistant feature that allows them to book a restaurant reservation over the phone on your behalf.
source: Google
Recommended Stories