Google Assistant is rated top smart speaker assistant after 800 question test
7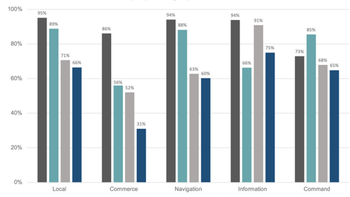 You might remember the name of Gene Munster. He's the former Piper Jaffray analyst who said last year that
Apple's AR glasses will be bigger than the iPhone
. Munster now spends his days and nights pouring over spreadsheets for hedge fund Loup Ventures. To judge which smart speaker assistant is the best, Munster tested Amazon's Alexa, Apple's Siri, Google Assistant and Microsoft's Cortana. Each of the four fielded 800 questions.
In a previous test earlier this year, Google Assistant led the way by providing the correct answer 81% of the time. This time, Google's virtual assistant was even more impressive as it answered correctly on 87.9% of the queries. Perhaps more importantly, it understand each and every one of the 800 questions asked.
Siri, whose performance on the Apple HomePod has been roundly criticized, had the biggest improvement from the first test when the virtual assistant answered only 52% of the questions correctly. In the latest exam, Siri had 74.6% of the answers right, beating out Alexa's 72.5% score. Cortana was last at 63.4%. All four showed improvement from February's test, and all four understand at least 99% of the questions asked.

Google Assistant leads the field after 800 questions
Each assistant was asked questions from five different categories including Local ("Where is the nearest coffee shop?"), Commerce ("Can you order me more paper towels?"), Navigation ("How do I get uptown on the bus?), Information ("Who do the Heat play tonight?") and Command ("Remind to call Steve at 2pm today"). Google Assistant was the top scorer in each category except for Command, which Siri led. Cortana was on the bottom of each category.

"Alexa's surprising Commerce score is best explained by an example from our test.

Question: "How much would a manicure cost?"
Alexa: "The top search result for manicure is Beurer Electric Manicure & Pedicure Kit. It's $59 on Amazon. Want to buy it?
Google Assistant: "On average, a basic manicure will cost you about $20. However, special types of manicures like acrylic, gel, shellac, and no-chip range from about $20 to $50 in price, depending on the salon."-Gene Munster, Will Thompson, analysts, Loup Ventures
The devices that were used on the test included the 2nd generation Amazon Echo (Alexa), Google Home Mini (Google Assistant), Apple HomePod (Siri), and Harman Kardon Invoke (Cortana).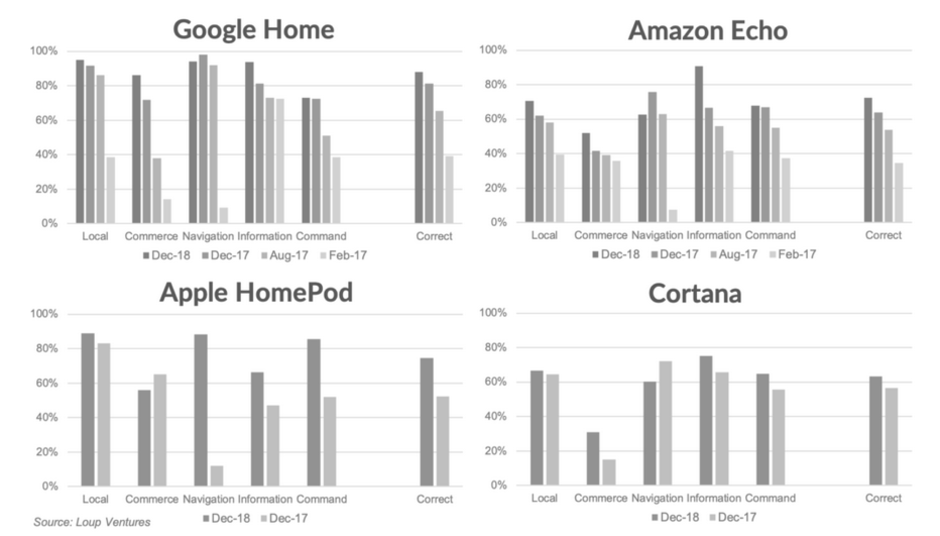 Siri's score improved the most since the previous test in February
Recommended Stories