Pi or Pie: New code commit reveals the codename of Android 9.0 P
20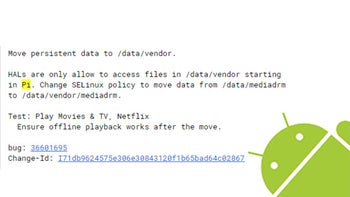 While it's too early to speculate on Android 9.0's name, which will be revealed at the software's official announcement sometime in August 2018 if Google sticks up to its schedule, an early developer preview will most likely arrive in a month or so. Thus, the flood gates of speculation pertaining to the next major version of Android are now wide open. Of course as it usually happens, the very first people to track down traces of code referring to upcoming software features are developers and tinkerers that disseminate any code Google has released, and especially the Android Open Source Project.
Pie, Popsicle, Poptart, Pancake...
The latest piece of interesting trivia comes from XDA's Mishall Rahman, who discovered that the next version of Android is referred to as "Pi" in the current AOSP commits, and while this is not a dessert name, it's heart-warmingly geeky name for the next 'Droid.
Of course, it could be a short for Pie, which is a delightfully tasty name, but we wouldn't bet our money on Android 9.0's name being leaked out so early and so blatantly obvious. After all, with so many possible names like Pie, Popsicle, Poptart, Pancake, and other not-so-logical ones like Pestille and Profiterole, Android 9.0's name won't be that easy to guess as its predecessor.
Still, it gives us a lot of food for thought while we mentally exercise and try to think of other sweet, diabetes-causing dessert names that could stick to Android 9.0; lo and behold, we have
a few suggestions of our own, too
!