Goodbye, Lenin, hello new MeeGo phone and tablet
9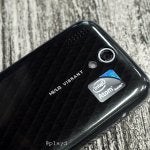 It's reported that Intel held a conference in Moscow, where it presented in flesh a MeeGo-powered tablet and a MeeGo-powered smartphone. As you know from
our article
on MeeGo, Nokia is collaborating with Intel to create a new platform for smartphones, tablets and PCs. With MeeGo, Nokia surely wants to go head-to-head with, say, the next-generation iPhone or the
Playstation Phone
and win, while this platform seems like Intel's best chance to get a sizeable share of the tablet market.
than Symbian
for its future high-tech projects and that's why it is time to take a look at these much anticipated, but yet unannounced devices. The smartphone is named
"HI/LO VIBRANT"
, but it's too early to guess whether this is going to be its official name or not. It has two cameras, with the front-facing one presumably for video calls. We can't say anything definite about the tablet, but it seems to have a front-facing camera as well.
Of course, there are no official release dates for these gadgets and they may be only prototype units anyway. But still, it's refreshing to see what Nokia and Intel are planning design-wise for their future devices.
source:
Twitter
via
UnwiredView