GoToMyPC is now available for the iPad
1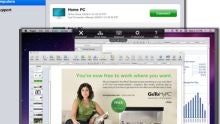 If you haven't already heard of GoToMyPC, then you've been living under a rock in the 1990's. GoToMyPC allows you to
remotely access
your computer from anywhere in the world, and access and edit files as if you were right there. It's been a fan-favorite of business professionals who often find themselves traveling away from their important documents, or needing access to their work files after they've left.
And now GoToMyPC is finally available for your
Apple iPad
, and can connect to both Macs and PCs. It will allow you to turn your web-surfing tablet into a lean, mean, and productive machine. The new iPad app is available as a 30-day free trial, when using the promo code "APPDEMO". But we guarantee you'll fall in love with it.
GoToMyPC takes advantage of a number of easy-to-learn and intuitive gestures. For example, right-clicking is accomplished with a two-fingered tap and showing/hiding the keyboard is accomplished with a three-finger tap. Other gestures like pinch-to-zoom and basic scrolling are the same as the iOS interface.
In case you were worried, the GoToMyPC connection is completely secure, utilizing 128-bit encryption and requiring a unique password to access the source computer. It will also automatically disconnect after a period of inactivity.
The app downloads and 30-day trial are both free. After the trial, a single-computer plan costs either $99 per year or $9.95 per month.
source:
Boy Genius Report
Recommended Stories