Get a digital pet to keep as Little Kitten is the free iOS app of the week
0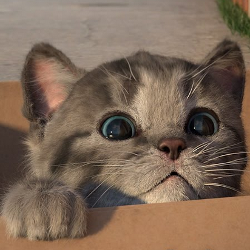 How would you like a free digital cat to take care of? Because it is digital, you 'll get some of the positive features of owning a real cat, but without the dirty litter boxes and the clawing of furniture that comes with a real feline. This week's Free iOS App of the Week is Little Kitten, a digital cat that is normally $1.99. With the lack of any text menus, the app is designed for young children, aged 3 to 8.
Parents can set how long the kitten can play for before it gets tired and goes to sleep. Despite being made for the kiddies, the developer says that this is a high-tech app that uses cutting-
edge
programming. And from now through Wednesday, it is free.
According to the listing in the App Store, Little Kitten can play the following games:
Kitten Hide & Seek - encourages focus and attention.
Paw Painting - creativity unleashed! Mix red, yellow, blue to get every imaginable color - your child will learn realistic paint mixing, then come up with your own master piece using a paw print or a standard brush.
Mouse & Cheese - Memorize where the zones are to sneak mouse past little kitten over to the cheese. Or just have some laughs seeing what happens when little kitten catches the mouse!
Bed Trampoline - Discover all little kitten's hidden tricks and moves!
Animal Puzzle - Mix and match funny animal combinations to earn biscuits that you can then feed to your little kitten.
Feeding - Each time you play a mini-game you receive cat food snacks, children love feeding little kitten and watching it licking it's lips and purr after a good feed!
Cat-in-the-box educational mini game.
Download Little Kitten from the App Store by clicking on this
link
.
source: Apple