Gazelle paying as much as $355 for a used Apple iPad Air prior to tomorrow's Apple event
4
With Apple expected to introduce the
Apple iPad Air 2
and the
Apple iPad mini 3
tomorrow, you might be looking to fund your purchase of either slate by selling the Apple iPad that you presently sport. One of the more well-known companies that will buy back your used device is Gazelle. In fact, you might have seen their ads on television.
The company will pay you $335 for a used Wi-Fi only
Apple iPad Air
. If you own one with cellular connectivity, you could receive $20 more. If you currently are packing a Wi-Fi only
Apple iPad mini with Retina display
, the company will exchange it for a $295 check. A version of the same tablet with cellular connectivity, will bring you $305.
An
Apple iPad 4
can be worth as much as $230, while Gazelle will pay as high as $150 for an
Apple iPad 3
. An
Apple iPad 2
will fetch as much as $120 and the OG
Apple iPad
can be worth as much as $45. Keep in mind that the condition of your tablet goes a long way in determining how much you will receive for it. The difference between an iPad in flawless condition and a broken model, can be as much as $100.
To get the process started, visit Gazelle's website (www.Gazelle.com) and lock in a quote. A pre-paid shipping package will be sent and you have a 30 day grace period from the time you lock in your quote, to the time you drop the pre-paid mailer in the mailbox. As long as the condition of the phone matches what was promised, a check will be mailed out within ten business days.
Tomorrow,
Apple is expected to unveil the Apple iPad Air 2
with a thinner footprint, Apple A8 processor, Touch ID and Apple Pay. Also expected to be unwrapped on Thursday is the Apple iPad mini 3. That tablet will also be powered by the A8, offer Touch ID and include Apple Pay.
Stay right here for our coverage of the event
which, starts at 1pm Eastern Time tomorrow.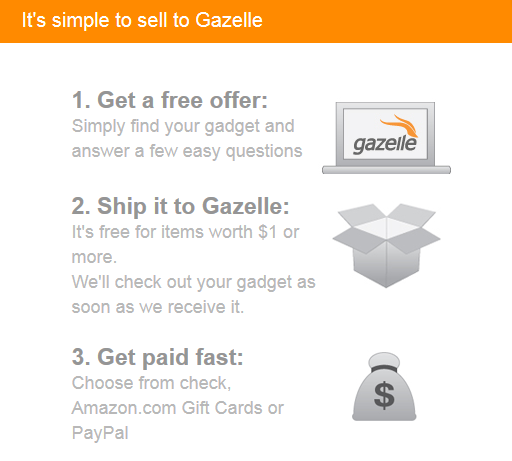 Selling your Apple iPad to Gazelle is a snap
source:
Gazelle
via
AppleInsider