Gartner sees the iPad maintaining 61% worldwide market share in 2012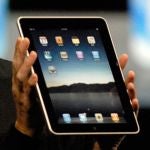 While Apple's share of the tablet market has dwindled
down towards
the 50% mark, industry analyst group Gartner sees Apple's iTablet maintaining 61% market share worldwide through the end of 2012. They predict that Apple will sell 73 million iPads to do this, which is a fair bit higher than the 45-50 million tablets
we calculated
earlier this week.
Of course our prediction was based on the premise that the current iPad sales rates would stay roughly the same (or increase slightly) – either Gartner is starting with a different number for weekly iPads sales, or they think new iPad sales will grow by more than 50% in coming months.
Looking at the rest of the tablet market, Gartner sees grabbing almost 1/3 of the world market (31%), with Windows 8 and RIM's QNX based tablets coming in far behind, with 4% and 2% respectively. Windows 8 tablets aren't expected
before the fourth quarter
, so the 4% market share Gartner is projecting wouldn't be nearly the disaster that RIM's 2% market share would be.
Of course all such predictions are subject to revision. The release of Google's low-priced
Nexus tablet
could certainly shake things up, and continued
price competition from Amazon
may also cut deeper into the iPad's lead. On the other hand, the release of a 7" iPad "mini" could also help to shore up Apple's market share; we'll certainly be keeping an eye on the market to see if Gartner's numbers hold up over the course of the year.
source: Gartner via
AppleInsider