8 excellent Android games to play on your new Samsung Galaxy Note 7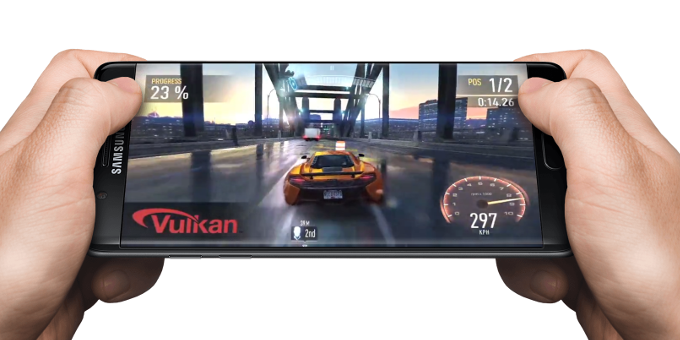 Inspecting the Note 7 impressive specs sheet, it quickly becomes clear that the device is a serious gaming machine. Well, at least as per the smartphone gaming standards, that is. The speedy internals and the large display are definitely begging for a lengthy gaming session. And no, we don't have Candy Crush Saga in mind - we are thinking something more demanding.
Vainglory
As Vainglory supports the Vulkan API, the graphics of the game are truly beautiful and detailed. With the Note 7's decently-large 5.7-inch display you should have no issues with the game's interface at all. Additionally, you shouldn't expect any performance hiccups at all, either. Vainglory looks like the perfect game to boot your mobile MOBA addiction on your spanking new Note 7.
Need for Speed No Limits
This savage adversary to Asphalt 8 is truly a must-have game for all those Note 7 users that like their games dynamic and their graphics mesmerizing. This free-to-play mobile racer supports Vulkan, so make no mistake - No Limits looks quite unrivaled in terms of graphics. That's so because of Vulkan, which makes its appearance in this Electronic Arts' title.
World of Tanks Blitz
Excellent graphics? Check. Captivating premise and plot? Check. Gameplay that sucks you in? Check. Intuitive controls? Check.
Grand Theft Auto: San Andreas
Anyway, you might have already beat the game a couple of times, but there's nothing wrong of reliving CJ's story on your new Note 7, too! Also, we'd argue that it remains the best open-world game available on mobile.
Star Wars: Knights of the Old Republic
It won't be an overstatement to say that SW: KOTOR is one of the best Star Wars games we've ever had the pleasure of playing, and as Star Wars fans, we've tried a decent amount. Starting from the captivating story that is both beautifully interconnected with the whole saga and unique in its own way, and continuing with the deep and immersive gameplay, this full port of the excellent PC game will keep you entertained for days, even more if you're a fan of the galactic epic. Pair this with the excellent graphics and turn-based combat mechanics that are both easy to learn and hard to master and you're in for some great gaming time!
Atlantic Fleet
Strategic nerds, this one would most likely, pardon the pun, float your boat! It's quite a complex strategy game which will have you command either the Royal Navy or the the Third Reich's Kriegsmarine in intense 10v10 ship battles.
Apart from the beautiful and demanding graphics (the water physics are exquisite), the game really employs some intricate gameplay mechanics that are nothing to gloss over - we suggest that you play the tutorial scenarios first so that you get familiar with what's going on. We promise it's worth it - Atlantic Fleet is definitely a gem among all the stones.
Smash Hit
Smash Hit is developed by Mediocre games, but it is by no means a mediocre one. Actually, it's one of our favorite games - it's beautiful, rewarding, and time-sucking. It's definitely a casual game, but it's undoubtedly one of the very best casual games you can get on Android.
The premise of the game is simple - you fly around and do your best to break the glass cones and panes with a limited amount of steel balls - simple, yet effective! Definitely a must-have game.
Finally, the game now works with the Gear VR, so Note 7 with the new one will be having a blast with Smash Hit!