Gameloft's GT Racing 2 now live at the Play Store
7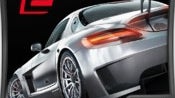 Exciting news for all the mobile gamers out there who have gasoline in their veins! Gameloft's latest Android game, GT Racing 2: The Real Car Experience, is now available for download at the Google Play Store. It features 67 different cars from more than 30 manufacturers like Mercedes-Benz, Ferrari, Dodge, Nissan, Audi and more. You can get involved in more than 1400 different events like Classic Races, Duels, Knockouts and Overtakes on 13 tracks, including the notorious Laguna Seca.
Gameloft states that GT Racing 2 offers unprecedented level of realism in terms of car dynamics and physics, never seen before in a mobile game. Gameloft will also release 28 new challenges each week which will offer players the chance to lay their hands on a new car or receive another in-game prize.
The graphics are gorgeous. The cars and the surrounding environment are detailed and realistic. The game features day/night changes, as well as different weather conditions, while four different camera views (including interior view) will help you to completely get immersed in the action. If you get tired of playing alone, the multiplayer option allows you to either play with your friends or team up with gamers from all over the world. The game itself is freemium – although it is completely free to play, the player will constantly be prompted to buy different upgrades or cars through in-game purchases with real money.
GT Racing 2 requires Android 2.3 or higher. Unfortunately, it seems like some users have issues with the game running on the Nexus 5 and several other devices. We suppose Gameloft will adress these problems with an update.