Gameloft unleashes a trine of updates to its Order & Chaos titles
5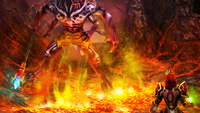 Mobile gaming powerhouse Gameloft has unleashed a trine of updates to its Order & Chaos games for iOS and Android. The changes are as follows:
The MMO RPG,
Order & Chaos Online
, has been brought to version 2.3.0. The update contains an additional dungeon for Level 70 elite players, along with more areas to explore, such as a Winter-themed Amusement Park Island, and The Mist Traders Camp. Also, the new version unlocks more gem slots on weapons for upgrading, and adds various Weekly Tournaments. Presently, this update is only up for iOS, although it's expected to hit Android soon.
Second, the MOBA (Multiplayer Online Battle Arena) game,
Heroes of Order & Chaos
, has an update to version 1.4.0. It brings two new characters in celebration of the game's one-year anniversary, along with exclusive gifts, six new tablets, and various in-game items.
And third, the trading card game,
Order & Chaos Duels
, has been updated to version 1.5.0. The update features a first-ever card set - the Elemental Warriors Card Set - and ten additional cards that bring heroes from Chinese mythology into battle.
Download Order & Chaos Online ($6.99):
iOS
|
Android
Download Heroes of Order & Chaos (free):
iOS
|
Android
Download Order & Chaos Duels (free):
iOS
|
Android