Samsung may be mulling a 12 MP camera with big sensor size for the Galaxy S7
48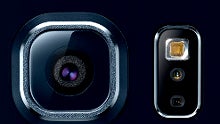 Hot on the heels of yesterday's tip that
Samsung is in talks with Sony
about the camera sensor that can be found in the
Xperia Z5
trio, testing the waters to fit it in the upcoming Galaxy S7, now comes a rather contrarian rumor. A blog post on Weibo, from an account with an already established track record, mainly about upcoming chipsets and other hardware components, claims that Samsung is mulling a rehash of its phone camera strategy.
Instead of chasing an ever-increasing pixel count - the
Galaxy S6
has a 16 MP camera, while
the S7 is rumored to have a 20 MP one
- Samsung is apparently planning to bet on much larger sensors with smaller resolution. We can only applaud such a decision, if the rumor turns out credible, as larger sensors with smaller resolutions mean larger pixels and/or more space between pixels, which on theory will be able to collect more light with less crosstalk and signal distortion.
In fact, the source claims that Samsung has one specific resolution in mind - 12 MP - which will be fitted on a largish for a mobile camera, 1/2" sensor area size. This means that the individual pixels which be much bigger than the puny 1.12 micron dots on current 20 MP or 16 MP phone camera sensors. Google took a similar approach with the new
Nexus 5X
and
6P
phones, outfitting them with 12 MP cameras that sport a large 1/2.3" sensor size with pretty good camera sample results.
The source claims that this new Samsung sensor is nearing mass production, and might end up in the Galaxy S7, though the only rumors we've heard so far about the camera on the S7 are for a 20 MP unit, and it might be a bit late in the game to swap sensors at this point, unless Samsung is testing the upcoming flagship with both sensor sizes. The large 12 MP sensor is said to be with a dual-PD (dual-photodiode) technology, too, so we can't wait to hear more info on if and when this thing will make it to Samsung phones, and to which ones.
Recommended Stories