Galaxy S5 fingerprint scanner might be embedded at the bottom corners of a bezel-less display
11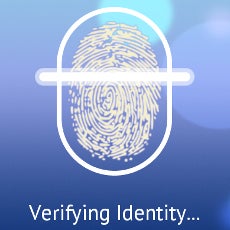 Speculation mounts that this fingerprint scanner could come integrated right into the display, using its electromagnetic field, looking like some of those fingerprint prank apps you've seen in the Play Store. Now the report adds that installing this scanning zone into the whole screen is still too iffy and expensive, so Samsung opted for two corners only with the S5.
"
Scanning fingerprints on the entire screen, which was much talked about recently, will be available in the latter half of this year, as there are still technological hurdles to overcome
," mentioned the source. Still, that's enough to sound like a sci-fi movie, and is perhaps based on the
multi-hover tech
that Synaptics is said to provide for the S5's touch layer.
The publication confirms this means no physical home key will be present on the S5, an abrupt change in design from the previous four flagships, and in line with
Google's KitKat push towards on-screen buttons
. The source also claims Samsung will use a thinner display package, which might thin the phone itself, perhaps aided by the
metal mesh touch panels
LG and Samsung were speculated to use in flagships from now on.
Furthermore, the display package is likely to be
edge
-to-edge, mentioned the insider, and the same concept will be used on the
iPhone 6
, they added. Bezel-less display package doesn't really mean bezel-less phone, as we still have the chassis frame around it, but the side bezels on those two are likely to be very, very slim. This will probably allow the alleged larger
5.25" Quad HD screen on the S5
to fit in the current compact size of the
S4
, though, especially if Samsung ditched the home key for good, too. In any case, the slimmer, lighter chassis despite a bigger screen is a given, based on the Galaxy flagship generations so far. What we are extremely curious to see, however, is if the embedded fingerprint scanner in the lower part of the screen will indeed materialize. What do you think?