Galaxy S4 bursts in flames while gaming, Hong Kong man claims, fire spreads to house and Mercedes
79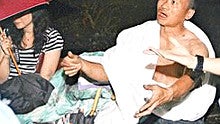 A Hong Kong guy claims his
Galaxy S4
burst into flames while he was gaming on the couch, startling him and forcing him to throw it under the sofa, which caught up fire in its turn, along with the curtains.
He quickly ran out of the house with his wife and pets, only to see the home incinerated to the walls, and the fire spreading out to the Mercedes that was parked next to the building.
What's not entirely clear is whether the S4 itself wasn't a counterfeit unit, as the man seems to have bought it from someone else, not to mention that the whole story starts from what appears to be a rather flammable couch, but, hey, the man was playing "Love Machine" on the device, after all.
Samsung Hong Kong has apparently already said it will investigate the matter, and do some chemical analysis magic to determine whether the S4 and its components were genuine, and were the real reason for the incident reported, so we'll keep an eye on the developments.