Galaxy S10 source code points to a 5G variant of the Galaxy Note 10
4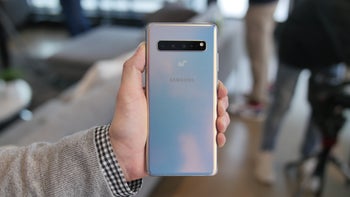 It's expected that the Note 10 will look very similar to the Galaxy S10 5G, pictured above
Smartphone releases come and go and we're always looking towards the next big thing in the field. Now that we've had some time with the Galaxy S10 models, the excitement has subdued and we're slowly shifting our focus to Samsung's next flagship: The Galaxy Note 10.
And while the Note 10 is still about 5 months away, bits and pieces of information about it have already started to show up. Today's bite-sized leak is coming from
XDAdevelopers
, snooping around in the software depths as always. While investigating the kernel source code for the Galaxy S10 devices, they stumbled upon a curious code name: DAVINCI5G
Usually, "Da Vinci" would leave a lot to the imagination about what the name is referring to, but thankfully, we already have the other piece of the puzzle. Back in September 2018, the infamous leaker Ice Universe shared in a tweet that the Galaxy Note 10 is
codenamed "Da Vinci"
. The 5G part is, of course, self-explanatory: the Galaxy Note 10 will also have a 5G version. Not exactly a shocking revelation, but it's always nice to get some "confirmation."
The code was found in Samsung's Exynos-powered Galaxy S10s and according to it, the 5G Galaxy Note will combine the Exynos 9820 chipset with the Exynos 5100 5G modem. That doesn't mean, however, that there won't be a version with the Snapdragon 855 and the X50 modem, but that's yet to be confirmed.
Another, more mysterious code name was also found in the kernel. Right under "DAVINCI" was "LUGE". Don't expect to see an artist when you google Luge, however, what comes up instead is information about the Olympic sport that includes a sled and an ice track. If you can see a connection between that and Samsung smartphones, please tell us in the comments. So far, the best guess is that this name refers to a next model from the Galaxy Fold line, but that might be a bit of a stretch.
Anyway, the Galaxy Note 10 is expected sometime around August this year and if the 5G Galaxy S10 is any indication, it will be a beast! We can't wait to see if Samsung will surprise us with new power-user oriented features!