Rumor: Samsung testing a Galaxy S10 with a rear fingerprint scanner. Does that mean no in-display scanner?
38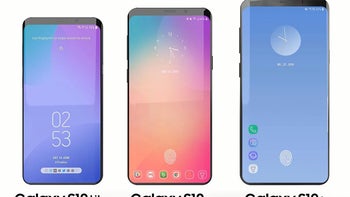 Samsung's Galaxy S line of devices is easily one of the hottest smartphones out there and, of course, the rumor mill often churns leaks and speculations months before the next model's release. We're already
hearing whispers
about the
Galaxy S10
way before the device has hit the production line, but that's not uncommon. It's fair to assume that Samsung is hard at work on the new model and some information is slipping through the tight cracks here and there.
The latest word on the street is that Samsung has been testing a Galaxy S10 device with a rear-mounted fingerprint scanner, just like the ones on the
S9
and
S8
before it. This might, of course, come as a disappointment as the tech-loving community is eagerly expecting in-display fingerprint scanners, mounted on the front, under the glass, to be one of the S10's eatures. After all, Chinese manufacturers have been
building such phones
for a while now and we are all eagerly waiting for the tech to hit the mainstream.
@UniverseIce There are new sources that Samsung testing a S10 device with rear fingerprint scanner. Samsung wants to commit suicide?

— Smartphone Tips (@SmartphoneTips2) September 11, 2018
However, we'd like to point out that there actually may be a total of
three Galaxy S10
models announced next year. Early rumors suggest that Samsung will do something to Apple, announcing three top-tier phones spread in different price brackets.
According to speculations, the two higher-priced ones will have an in-glass fingerprint scanner on the front, while the 3rd one is still a mystery since we're hearing conflicting information about it every other week. If this latest rumor that we are reporting on now is true at all, it's probably regarding the "cheapest" Galaxy S10, which will have a more orthodox design and some corners cut in order to sell for less. And by "less" we still mean "around $650-$700", just to be clear. Of course, we will be keeping an ear to the ground for any additional information!
source:
@SmartphoneTips2