America gets the 'better' Galaxy S10 again, as Snapdragon 855 shoots to the benchmark top
33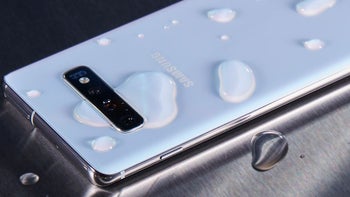 Oh, America, land of the free and home of the brave! You used to be relegated to a second-tier Samsung flagship area for far too long, as the company's homebrew Exynos processors and modems couldn't bear the US carrier frequencies and connectivity patents, much to the chagrin of local benchmark warriors.
Being destined to peruse flagship phones with Snapdragon chips, however, finally paid off with the
Galaxy S9
, as it marked the end of an era where Exynos-laden models consistently scored more on benchmarks and longer in battery life compared to their US-bound Snapdragon brethren.
We are happy to confirm that with the
Galaxy S10
family that trend is deepening, and the
Snapdragon 855
chipset that is in the US models seems to perform a good deal better than the
Exynos 9820
one, and that difference has been visible ever since early samples of the 855 were tested against other top performers.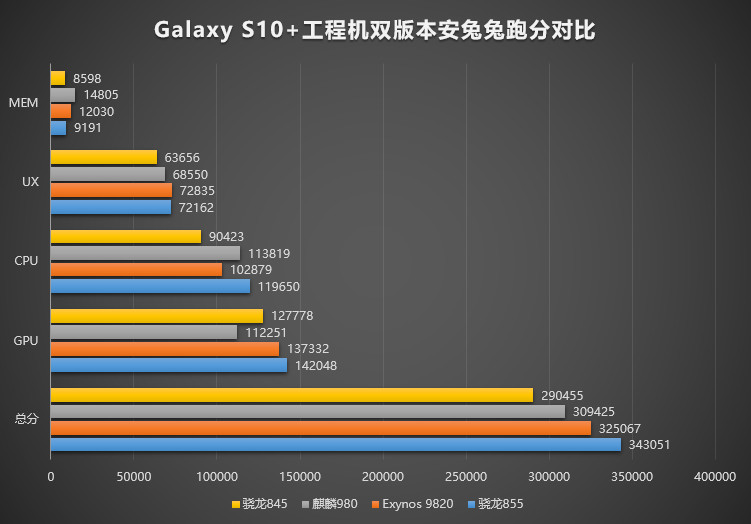 This winter chart from AnTuTu was a harbinger of good things to say about Snapdragon 855
This time around, we also have a physical difference in production modes to blame - the Snapdragon is made with the first-gen 7nm process, while the Exynos is still an 8nm affair. Samsung has a
superior 7nm method
in the pipeline but that one wasn't ready to churn out the millions of chips that will be needed for the amounts that a flagship Galaxy S usually sells in. Moreover, the Exynos ships with a fairly generic Mali graphics subsystem, while Qualcomm put a lot of effort improving and enriching its custom Adreno graphics.
Now off to the hard benchmarking numbers. The Snapdragon 855 processor just
got crowned
the fastest one an Android phone can carry, dethroning Huawei's 7nm Kirin 980 as found in the
Mate 20 Pro
, for instance. Galaxy S10 is still not in this chart as it hasn't been officially released, but the AnTuTu database pushed it up at the current top as people are testing their review units and the phone created numerous entries there.
Our own
benchmarks of the Exynos 9820 model
confirmed that it is way faster than the Exynos or Snapdragon that is in the
Note 9
, for instance. When clashed with the Snapdragon 855 model on Verizon, however, the Exynos gives way in the multi-core scores. Memory latency pushes it ahead in the single-core category but let's not forget it's also clocked a bit higher than the Snapdragon in the
Geekbench database comparison
below.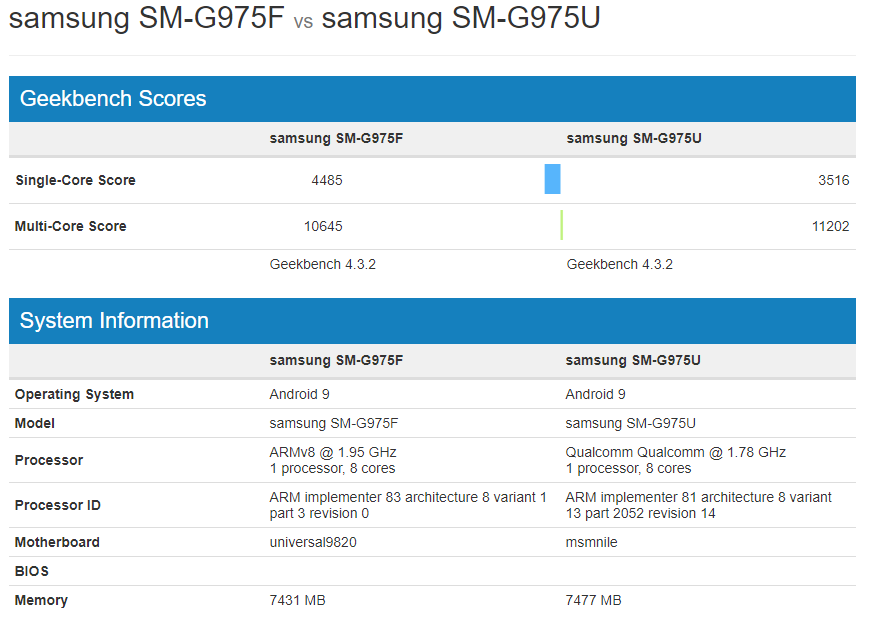 On more comprehensive benchmarks like AnTuTu, the Snapdragon 855 versions of the Galaxy S10 family clock about 7-10% higher scores, depending on the configuration. Overall, however, the biggest advantage seems to be in graphics performance and in battery life of the Snapdragon-laden S10 against Samsung's own Exynos 9820 one, but we'll do some more testing in those regards for a final conclusion on the US version superiority.