Snapdragon 855 vs Exynos 9820 vs A12 benchmarks show Galaxy S10 may breathe down the iPhone XS neck
14

Popular cross-platform phone benchmark
AnTuTu
has compiled a chart of its most interesting database entries, namely of the upcoming
Galaxy S10
fam with either a
Snapdragon 855
or
Exynos 9820
chipsets.
Qualcomm just
announced the Snapdragon 855
, and for a good measure AnTuTu has thrown in Android's first 7nm SoC - Huawei's
Kirin 980
- as well as this year's flagship king the Snapdragon 845.
As you can see in the chart, Snapdragon 855 leads the pack with the whopping 343,051 points, which is just a tad shy of the record-holder on the iOS side,
iPhone XS
, and its A12 processor that scored 352,405 points. Qualcomm's newest processor decimates the current Android darlings, including the other 7nm chip in the mix, Kirin 980.

The folks over at AnTuTu also warn that the Snapdragon 855 and Exynos 9820 versions of the
S10+
in the database weren't running the latest drivers. Qualcomm's 855 development platform, for instance, managed to score 360,000+ points, they say, which is apparently a mobile device record.
Samsung's own Exynos 9820 is holding well, though, despite that it is made on the 8nm node, by scoring the second highest result. All in all, whichever processor your Galaxy S10 or S10+ uses, they will be beasts to reckon with judging from all leaked benchmarks so far.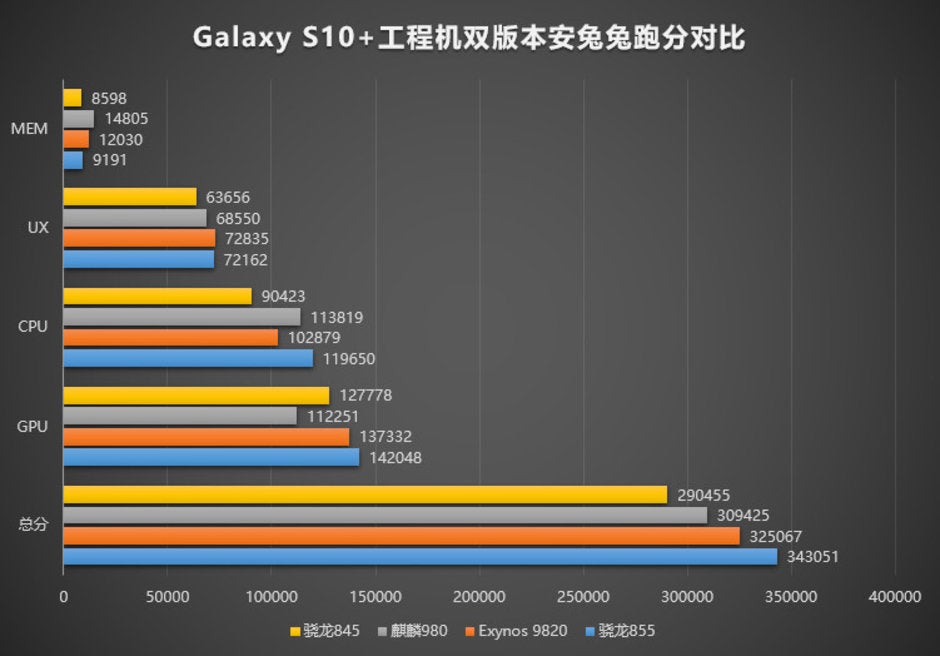 Recommended Stories