Galaxy S III spontaneous combustion: battery swells, melts casing while charged
95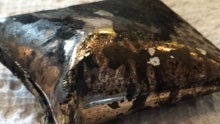 Spontaneous combustion of Li-ion batteries has been documented in quite a few cases already - if the batteries weren't flammable under some circumstances, like using unauthorized chargers, Tesla Motors wouldn't need dedicated cooling for its electric car battery system that consists of thousands of such battery cells.
We've
reported such cases
where allegedly a cell phone battery just catches on fire, and now we have the next in line - a
Samsung Galaxy S III
, whose owner claims that the handset went ablaze while being charged on the bed next to him at night. Not a pleasant experience by any means, and the owner took to the usual ranting place, Reddit, uploading some pictures of the incident you can see below. Here's his recap of the story:
Last night at about 3:15am EST (about 1 hour after i plugged it in and went to sleep) I was awoken by a loud noise and a weird squeaking sound. (I charge my phone while I'm sleeping on my bed right next to me)

So, I woke up, and saw a ton of smoke coming out of my phone -- it also smelled REALLY bad. Half asleep, I jumped out of bed and turned the light on, only to see that my phone was just beginning to go on fire. I dumped a glass of water I had in the room on it to stop it from burning...then woke up my brother to come help. The smoke smelled so bad and wafted through the entire second floor of my house. I had a foam mattress pillow top that had a hole burned through it too--which we later threw out because it was still burning throughout. Also, some of the plastic on my phone was melting and kind of shooting out of it, and some landed on my pinky finger and burned some skin off (very small burn though).

Does anyone have any suggestions what I should do? Call Verizon? Samsung? Have a lawyer call them? I'd also like to get some type of replacement phone in the meantime...

ALSO: To answer many questions: EVERYTHING was stock/Samsung that I had received when I purchased my phone. Stock battery, charger, etc. Additionally, my phone was NOT rooted.