Galaxy Note 8 or LG V30: which one has your eye (and potentially your money?)
84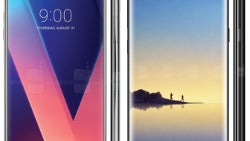 So, both Samsung and LG have unveiled their top-tier devices for H2 2017 and both of them are phablets. Each aims at its own niche — Sammy's Note 8 has the S Pen and some productivity features, the LG V30 has the quad-DAC and photo / video features. But it's safe to say that both are top-notch devices.
Now, Sammy has the dual camera with the telephoto lens, iris and facial scanning, the oddly-placed fingerprint scanner, the S Pen, and curved screen with Edge Panels. The LG V30 has the wide-angle secondary camera, the quad-DAC, audio and video presets for recording, and camera-centric effects and apps. The latter phone also has its own version of the Edge Panels in the form of the new Floating Bar, which replaces the V series' ticker screen.
Anyway, it'd be hard to make a choice between these two behemoths. Have you made up your mind?