Galaxy Note 4 to come in Electric Blue and Copper Gold versions in its turn
13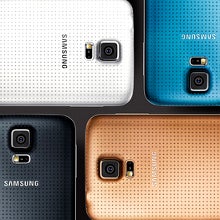 First we have the summer, then the
Galaxy Note 4
, or that's how events are unfolding in Geekland this year (and the year before). Samsung is expected to showcase the newest edition of the phablet line that started it all around the time of the IFA expo in Berlin in the beginning of September, and it is expected to be a blast of a handset.
The rumors peg it as keeping the same 5.7" screen diagonal as its predecessor, which is still plenty of display real estate, but means that eventually we might see thinner bezels and a more compact overall frame. Still, Samsung has to fit its fingerprint scanner in the home key, if the Galaxy S5 is any indication, so we aren't expecting wonders in the screen-to-phone-size ratio metric. What we are expecting, however, is a sweet Quad HD (1440x2560 pixels) resolution of the Super AMOLED display. Judging from the recent
Tab S
line, that AMOLED panel might finally
bring realistic color representation
to phones, too. As far as the silicon inside, we are waiting on a Snapdragon 805 processor for the LTE variant, or Samsung's first 64-bit Exynos chip with Cortex-A57 cores for the global version.
The exterior? Well, if the perennial tipsters from @evleaks are to be believed, the Galaxy Note 4 will be outed in the same color schemes as the S5, meaning we will have blue and golden versions as well, or, as Samsung calls it - Electric Blue and Copper Gold - in addition to the more orthodox Shimmery White and Charcoal Black schemes. Does this mean that the perforated "glam" look is here to stay with Samsung's upcoming phablet? We won't know until the first credible design leaks, but there's every indication it might. Oh, well, the
much maligned S5 back
actually won our praise as
one of the more underrated achievements of H1
, on account of its gripability and ergonomics, so having it in the largish Note 4 won't be a bad idea.