Galaxy Note 3 teardown reveals $232 bill of materials, new Wacom digitizer
21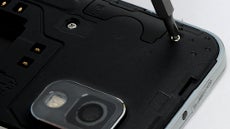 The
Samsung Galaxy Note 3
has barely been out, but it is already getting the teardown treatment, and all points show to one very improved device compared to the Note II, in mostly an evolutionary way.
First off, it has a brand new Wacom digitizer to get with the new S Pen stylus tricks, with the package mark reading W9010, compared to W9001 on the
Note II
. Second, we get
the best Super AMOLED display panel
Samsung has produced so far, as was confirmed recently by the professional screen calibration science over at DisplayMate. The 5.7" Full HD screen is indeed with a
diamond matrix
, rather than the regular RGB pixel arrangement, and the teardown even zooms into the display structure itself, marking the dimensions of individual pixels, as well as the distance between them.
The other Samsung parts inside, besides the display, are the 3 GB of LPDDR3 RAM, first on a phone, and the 32 GB of NAND Flash internal memory. The rest comes from different manufacturers, with Qualcomm scoring the most design wins inside the Note 3. There's also a six-axis gyro and MHL 2.0 transmitter, so we'd have to wait before an
MHL 3.0
port appears on a phone, it seems, letting you wire 4K clips to your new TV.
The estimated total Bill of Materials (BOM) for the Note 3 is $232.5, with the most going out to the $61 display assembly package and the $49.5 chipset. Selling it north of $600 to carriers and end users commands Apple-like profit margins for Samsung. We'd still have to add R&D plus selling, general and administrative costs, too, which with Samsung's marketing budget might amount to "just" a hundred percent margin for each Note 3 sold.