Galaxy Nexus 2 concept is well-designed and ridiculous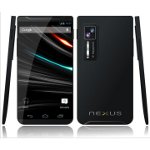 We see a lot of concept devices roll through all of the time. The vast majority of concept renders are for rumored Apple products, but there will be the occasional
concept of a BlackBerry
device, or even an official
concept from Nokia
. One thing that we don't see too often are concept renders for Google Nexus devices. Sure, we'll see the occasional render designed to fool people into thinking it's a leak of the real product, but that's not quite the same as a concept. Today, we saw a pretty interesting concept render for what would be a Samsung Galaxy Nexus 2.
The concept was designed by Killu-Chan, and shows a Samsung-made Nexus phone that would feature a 5" display at 720p resolution covered in Gorilla Glass 2. Inside, the concept calls for 32GB of storage, 42Mbps HSPA+, Bluetooth 4.0,
microUSB 2.0 with MHL and USB on the go. The ridiculous part is that the concept also calls for 8GB of RAM, which we're really hoping is just a typo, because if that's really an expected feature of the designer, we may just have to throw out the entire idea. Rounding out the internals would be a 2GHz quad-core Tegra 3 and a 3200 mAh battery.
simultaneous HD video and image recording.
All of that sounds nice and dreamy, some even seems reasonable. The design itself uses a teardrop shape that is expected to be part of the iPhone 5 design. The other major part of the design is that it has no bezel on the sides of the screen. This is a fairly common design point, but it's one that we don't really expect to take off any time soon. It's a good idea to shrink the side bezel in order to fit a larger screen, but to take away the bezel all-together would cause too many issues with accidental touches.
Overall, it looks like a pretty interesting concept, but not one that we're really expecting or would even be too excited about. It looks sort of like a smoothed-out DROID X. It's never a good sign when a concept design is more interesting for its spec sheet than the design itself. What do you think? Are we being too hard on it?