BlackBerry 10 slider concept looks pretty slick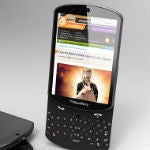 We still have an annoyingly long time to wait before we get to see any real BlackBerry 10 devices, so concepts are pretty much the only option available to us. This concept is one that looks pretty sweet, especially if you like the more classic BlackBerry style. Of course, we won't be seeing a model like this anytime in the near future as RIM has reportedly scrapped the
Milan
, which would have had a physical keyboard, in favor of just the singular BlackBerry London with a full touchscreen.
Jon Anastasiadis who certainly went pretty deep into the small details of the device. The concept is for a slider phone with a touchscreen and physical keyboard, something close to a highly updated BlackBerry Torch. Anastasiadis added a micro trackpad just above the T and Y keys on the keyboard, which seems like a nice idea, but might be a bit too small for functional use.
Another interesting detail is that Anastasiadis used an angled keyboard on the device, which looks very at home on the BlackBerry, and it should. RIM was actually awarded a patent recently for just such an angled keyboard, you know, because angling the keys on a keyboard is a completely novel idea that is worthy of a patent...