Nokia shows off video of futuristic HumanForm handset concept
24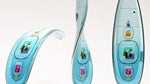 Hot on the heels of showing off their bendable
Kinetic Phone
, Nokia's Research Center is showing off an even more futuristic concept for a phone. Using nanotechnology and the Kinetic's model of navigating via physical interaction, Nokia envisions a device so different you would probably not recognize it as a phone if you happened to find one lying around the office.
Not that you're likely to find one in your office any time soon. The device is based on nanotechnology and some other "yet to be perfected" manufacturing technologies, but the idea is far enough along that Nokia felt it was worth demonstrating on the 25th anniversary of the Nokia Research Center. Mock-ups exist, but the real thing is still a ways off.
But what a device it will be if it ever makes its way to market. The device is conceived to be not just flexible, but for the entire surface to be a touch sensitive display. The surface would also be "electro tactile" to provide touch-based feedback to your fingers as you manipulate the surface of the device.
In addition to being flexible, the device is described as being able to change shape itself, molding itself to the users' individual ear and head shapes for a better listening experience.
It's impossible to predict whether this particular concept device will ever be brought to market, but all of the technologies in the video are currently be researched so it's safe to say that this video shows off many of the types of advances we're likely to see in the coming decade, even if the exact form factor may differ.
Watch the video for yourself below:
source:
Nokia Conversations
via
Engadget