Galaxy Fold 2 'Bloom' to be launched in April... and Samsung is torn over the screen size
17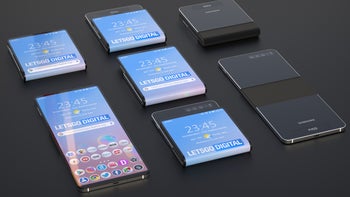 Remember those rumors that the
Galaxy Fold
successor will be a flip phone with a horizontal instead of a vertical crease? Well, despite the OG Fold hiccup, Samsung is hard at work on the
Fold 2
already, and plans to release it according to schedule,
tips Korean media
today.
The Fold 2 will, surprise, surprise, be launched in 2020, claims the report again, but this time around it cites the exact month of April as the release timeframe, a month after the
Galaxy S11
appearance on the shelves in March. Multiple parts industry players are mentioned as sources, and one was even quoted with the not-so-helpful (or maybe it's Google Translate) sentence:
The Galaxy S11 is expected to be released around March next year, and the Galaxy Fold 2 will also be released [afterwards].
This will be a bit more than six months after the original Galaxy Fold release, but not because Samsung is planning on bi-annual bendable phone model refreshes, just because the OG Fold was later than planned.
The codename is reportedly "Bloom," signifying plans for general expansion of the foldable phones' market share, as opposed to OG Fold's "Winner" moniker, as it was meant to bring people around the bendy phone camp in the first place.
To 8-inch or not to 8-inch?
Not much else but the screen sizes that Samsung is deliberating over, is known about the Fold 2 specs at this point. We'd assume that it will be stuffed to the gills with everything the Galaxy S11 will have to offer, like Snapdragon 865 chipset with X55 5G modem, as well as periscope camera, and then some, though.
Initial rumors pegged that Samsung's 6.7" Galaxy Fold heir to bend around the horizontal axis, and have just a small 1" screen on the outside for date/time/notification icons. That's quite a clever and eventually cheaper to produce approach than the current Fold concept. With its next foldable phone effort, Samsung is reportedly gunning for portability instead of screen space.
There are forces inside Samsung, however, tips today's report that want a larger screen, arguing (rightfully) that this is the whole point of foldable phones - to give you much more extra canvas to work on when unfurled than regular phones. Given the 6.5" iPhone 11 Pro Max is 6.8" Note 10+ we have now, a 6.7-incher won't have a "wow" factor when announced, no matter the screen aspect ratio used.
The 7.3" Galaxy Fold is more in the tablet realm when unfurled, while its successor is supposed to be a fairly compact clamshell when tucked in your pocket, but some in Samsung now want it to have an 8.1" display when opened. This will be a longer display diagonal than even the OG Fold, so we'll see how Samsung will square that circle.
Galaxy Fold 2 release date
As for the Fold 2, Samsung will reportedly start sourcing its respective bendy display in November, indicating a mass production and launch timeframe for the first half of 2020.The display production is supposed to start next month, so Samsung still has some time left to make the ultimate decision. Despite the issues that plagued the Fold preview units, Samsung is reportedly far from giving up on the category, and is planning to separate its foldable phone efforts in a different class of its smartphone portfolio altogether.
If Samsung is prepping something along the
RAZR 2019
vein, we can only commend its efforts, as, let's face it, nobody wants to lug around a pocket Bible of a phone with a visible crease in the middle that costs two grand to begin with.
We would be pretty hyped to see a Galaxy Fold clamshell and not only for old times' sake but as an actual practical solution to our big-screen phone woes. When asked to comment on the Fold 2 release date, Samsung replied with: "
It is difficult to comment on products that have not been released yet
." Oh, well, just you wait for the leaks.