Galaxy C5 and C7 media renders pop up, new rumor pegs higher prices
26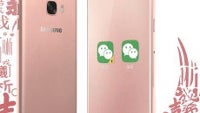 After years of painfully inconsistent product naming strategies, Samsung has finally settled down on something a bit simpler. The Galaxy phones of the day are suffixed with just a letter and a number. Like the Galaxy C5 and C7, both of which we've been occasionally coming across in the wild this past month. And guess what, we just came across another find: seemingly official media renders of the two.
Expected to make an entry on the Chinese market first, the C5 and C7 are nothing to sneeze at, despite their non-flagship status. Both devices are on the large side, with 5.2- and 5.7-inch, 1080p screen respectively, housed within what appears (and is rumored to be) an all-metal, kind-of-HTC-One-series-like metal body.
On the processing side, we're looking at either a split between Qualcomm's Snapdragon 617 and 625 processors or the former for both. The chipset is supposedly coupled with the ample 4 gigs of RAM and 32GB of storage. As for imaging, we're told to expect a 16-megapixel main snapper with wide,
f
/1.9 lens, along with an 8-megapixel selfie camera. Both devices are said to offer support for rapid charging, allowing you to quickly top off their 2,500mAh/3,300mAh juicers. The Samsung TouchWiz interface on board is expected to be based on Android 6.0 Marshmallow.
Finally, our last piece of intel concerns pricing, and here we have some bad news. Instead of prices starting at about $250 as previously rumored, sources in China now claim the C-line will be more expensive, starting at about $335 for the C5 at 32GB and $400 for the C7 with the same storage allowance.
Recommended Stories