Galaxy A7 2018 vs A7 2017 vs A8+ specs and size comparison
28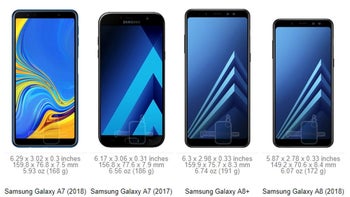 Just when we thought Samsung is going to simplify its smartphone portfolio, and here we are with a Galaxy A7 (2017) successor dubbed simply the Galaxy A7, on top of the A8+ (2018) Samsung already released in the spring. Cool beans.
To bring order from chaos, we are doing specs and size competition to help you navigate the Samsung midrange maze. As you can see from our size comparison tool above, last year's A7 edition sticks out like a sore non-Infinity Display thumb among the shaved top and bottom bezels of its successors.
Still, the A7 (2018), as well as the A8+ with their 6" AMOLED displays are pretty large handsets by all measures. The Infinity screen design of Samsung looks more refined in the case of the A8+, too, as it sports thinner side bezels, yet is thicker and way heavier than the A7 that Samsung just announced.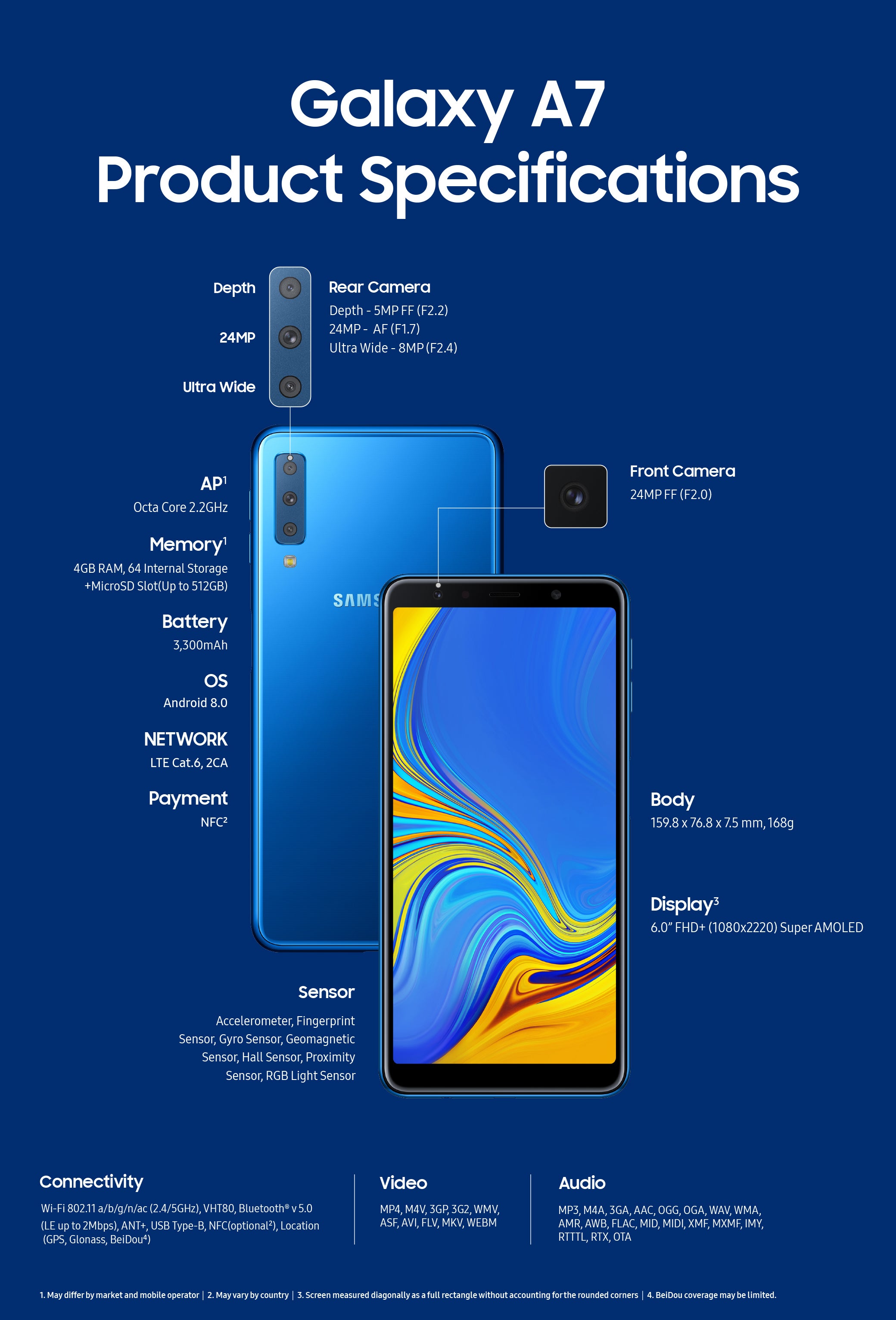 Moving on to the specs, the minor-looking bump in processing power and memory is actually significant, as the Exynos 7885 in the new A7 and the A8+ has Cortex A-73 main cores, and is clocked much higher. Moreover, the up to 6GB DDR4 memory in those two makes a difference against the 3GB DDR3 modules in the 2017 A7 edition. The biggest specs advantage, however, is that sweet triple camera on the back of the modern A7.
The 24MP main sensor with pixel-binning in low light scenarios, 5MP Depth Lens for deep bokeh and portraits, plus an 8MP ultra wide-angles camera make for a powerful combination that puts the other two to shame and is perhaps what is awaiting us from Samsung going forward.
If we have to rant about something in the newest A7, it would be the 3300mAh battery pack, which is smaller than both its predecessor's, and the A8+'s, but then, again, the A7 starts from 349 EUR, which is very reasonable for these specs, and for Samsung's first triple-camera phone. Any takers?
Super AMOLED
Super AMOLED
Super AMOLED
Scratch-resistant glass, Ambient light sensor, Proximity sensor
Scratch-resistant glass, Ambient light sensor, Proximity sensor
Scratch-resistant glass, Ambient light sensor, Proximity sensor
Samsung Exynos 7 Octa 7880 (14 nm)
Samsung Exynos 5 Octa 7885 (14 nm)
Samsung Exynos 7 Octa 7885 (14 nm)
Octa-core, 1900 MHz, ARM Cortex-A53, 64-bit
Octa-core, 2200 MHz, ARM Cortex-A73 and ARM Cortex-A53, 64-bit
Octa-core, 2200 MHz, ARM Cortex-A73 and ARM Cortex-A53, 64-bit
Mali-T830 MP3
Mali-G71
Mali-G71 MP2
Android (8.0 Oreo, 7.0 Nougat, 6.0 Marshmallow)
Android (9.0 Pie, 8.0 Oreo, 7.1 Nougat), Samsung One UI
Android (9.0 Pie, 8.0 Oreo), Samsung One UI
Fast charging
Fast charging
23.00 hours
the

average

is 0 h (0 min)
23.00 hours
the

average

is 0 h (0 min)
19.00 hours
the

average

is 0 h (0 min)
3G: 13 hours; LTE: 16 hours; Wi-Fi: 17 hours
3G: 12 hours; LTE: 14 hours; Wi-Fi: 15 hours
3G: 12 hours; LTE: 14 hours; Wi-Fi: 14 hours
59.00 hours
50.00 hours
74.00 hours
20.00 hours
19.00 hours
17.00 hours
Single camera
Single camera
Triple camera
16 MP (Autofocus, CMOS image sensor)
24 MP (PDAF, CMOS image sensor)
Aperture size: F1.9
Aperture size: F1.7
Aperture size: F1.7; Focal length: 26 mm; Sensor size: 1/2.8"; Pixel size: 0.9 μm
8 MP (Ultra-wide, Autofocus, CMOS image sensor, BSI sensor)
Aperture size: F2.4; Focal Length: 18 mm; Sensor size: 1/4"; Pixel size: 1.12 μm
5 MP (Depth information)
Aperture size: F2.2; Focal Length: 24 mm; Sensor size: 1/5"; Pixel size: 1.12 μm
1920x1080 (Full HD) (30 fps)
1920x1080 (Full HD) (30 fps)
1920x1080 (Full HD) (30 fps)
Video calling, Video sharing
Hyperlapse, Video calling, Video sharing
Hyperlapse, EIS, Video calling, Video sharing
16 MP
16 MP
24 MP
1920x1080 (Full HD) (30 fps)
1920x1080 (Full HD)
6.17 x 3.06 x 0.31 inches (156.8 x 77.6 x 7.9 mm)
6.30 x 2.98 x 0.33 inches (159.9 x 75.7 x 8.3 mm)
6.29 x 3.02 x 0.30 inches (159.8 x 76.8 x 7.5 mm)
6.56 oz (186.0 g)
the

average

is 6 oz (171 g)
6.74 oz (191.0 g)
the

average

is 6 oz (171 g)
5.93 oz (168.0 g)
the

average

is 6 oz (171 g)
Back: Glass (Corning Gorilla Glass 4); Frame: Aluminum
Back: Glass (Corning Gorilla Glass 5); Frame: Aluminum
Back: Glass (Corning Gorilla Glass 3); Frame: Plastic
Water, Dust; IP68
Water, Dust; IP68
Fingerprint (touch)
2D Face unlock, Fingerprint (touch)
Fingerprint (touch)
Touch sensitive control keys
Notification light