GS4 with TouchWiz vs GS4 Google Edition: Google Edition wins!
23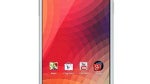 So, we ran that poll last week, asking you
which Samsung Galaxy S4 version you'd prefer
: the one with Samsung's own TouchWiz user interface, or the newer one that's sporting a clean, stock Android Jelly Bean OS. As you might expect, we got quite a bit of activity, ending up with a total of 2041 votes. Of that, close to 58% voted in favor of the Samsung Galaxy S4 Google Edition (1174 votes), while 42% preferred the regular Galaxy S4 with TouchWiz UI.
While we're not exactly shocked that more people seem to prefer the Galaxy S4 with stock Android, we're actually a bit surprised to see the GS4 TouchWiz hanging so well against its Google-supported counterpart. The Google Editioned managed to gain some significant lead, but all in all, our poll proved that there are a lot of people out there who enjoy Samsung's TouchWiz experience, with all of its pros and cons.
And what about you? If you've missed to vote in our poll last week, now's the time to let everyone know what you think by dropping a comment below!