GPS Voice Navigation for WP7 gives you Google Maps and MapQuest support for $6.99
9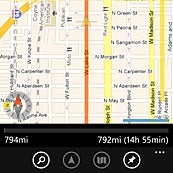 It wasn't that far back when you couldn't find a decent GPS application in Windows Marketplace to save your trip. Bing Maps is fine, but its map support outside of the US leaves a lot to be desired, and it won't be fully-developed
until the Mango update hits
.
Third party solutions are starting to appear amongst the 20 000+ applications for WP7, and still from indie developers, the major GPS software players obviously consider the free offline voice-guided navigation of Nokia's Maps, which is
coming to WP7 to replace Bing
, too much of a threat.
Nokia and Microsoft work out the kinks
, since the first Nokia Windows Phones are unlikely to sport Nokia Maps yet anyway. The app can work with data from
Google, Bing, Yahoo and MapQuest
, featuring voice-guided navigation, as well as written turn-by-turn guidance.
Here's what the app features, according to the Windows Marketplace description:
Google, Bing, Yahoo and MapQuest maps support (road and hybrid).
Spoken driving instructions.
Handy dashboard with estimated time of arrival (ETA), time and distance travelled, remaining distance and other information about your trip.
User-centered design that offers more than just an interface to online maps.
Two ways to define a destination or find a location – point it on the map manually or look it up using the address finder.
List of previously searched destinations in the Search menu.
Works with metric (kilometers) and imperial (miles) units.
Prevent autolock and back-button confirmation options.
Landscape and portrait views supported.
GPS Voice Guidance is priced at the reasonable $6.99, with a free trial, and can be found in Marketplace if you want to stray away from the default Bing Maps navigation every now and then.
via
WMPowerUser