G Prime, F Prime, L Prime, and W Prime may be future LG smartphones
19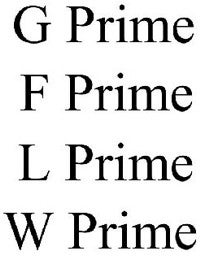 LG recently filed four trademark applications for names that include the term "Prime" - which is also seen in the tentative monikers of Samsung's
Galaxy S5 Prime
and HTC's
allegedly canceled One M8 Prime
. The names that LG intends to trademark are: G Prime, F Prime, L Prime, and W Prime. All applications are related to smartphones, and were filed with the USPTO several days ago, on June 3.
While we've no idea if these names will ever be used to designate real devices, there is a certain logic behind them. LG currently has a G series of smartphones (including the latest
G3
), an F series (including the F90 and F70), and an L series (L90, L70, etc). What about the W, then? Well, this one may be reserved for a brand new Windows Phone 8.1 handset.
Of course, it's hard to imagine that in the near future LG could, for example, launch a G Prime that's more advanced than the G3 already is. But, in the long run, this could definitely happen. We'll keep an eye on this, and let you know when more details are available.