Funny or Die reveals the comic truth behind Apple's latest ad
13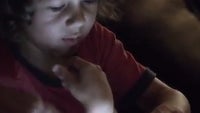 Have you seen the latest Apple ad? Even if you haven't, you can probably imagine the deep bassy voice of the narrator. In the latest ad, Apple explains why its products and the company itself is special, why it develops only a few products, but takes the time to finish them to perfection. And of course, it shows how people are using the latest iDevices everywhere - from concerts to bed.
But what if you changed the voiceover and replace it with someone else sees. "
We spent a lot of time developing things so that you don't have to watch concerts you paid for,"
a different voice of reason explains in the spoof video you can watch below.
And what if technology was just a way to avoid facing communication with real people?
"You may never find a boyfriend, but you don't need one. You've got a phone,"
the voice makes fun of people overly attached to technology. Check it all out below.