Fun fact: the 4.5-inch BlackBerry Passport has a bigger screen than the 4.7-inch iPhone 6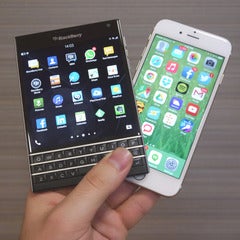 We could probably come up with a pretty long list of traits that make the
BlackBerry Passport
an unusual smartphone. The operating system's peculiarities, the physical, touch-sensitive keyboard, and the bottom-placed stereo speakers would all be on it, along with the square-shaped touchscreen that it sports. This post, however, is all about the latter and how it compares, size-wise, to the screen on a smartphone that you might have heard about, the
Apple iPhone 6
.
First, some technical characteristics: the BlackBerry Passport has a 4.5-inch, IPS LCD touchscreen with a resolution of 1440 by 1440 pixels for a PPI figure of 453 pixels per inch. On the
iPhone 6
we find a 4.7-inch, IPS LCD touchscreen with 750 by 1334 pixels of resolution, which produces 326 PPI – quite lower than the Passport's.
But now comes the interesting part: the screen on the BlackBerry Passport is not only more
pixel
-dense than the iPhone's, but also larger. To be more specific, it has a greater area despite its smaller diagonal size – 10.13 square inches for the "4.5-inch" Passport and 9.44 square inches for the "4.7-inch" iPhone 6. (We got the figures after punching the two displays' proportions into SiliSoftware's screen calculator.)
This paradox, if you will, occurs because we're used to looking at diagonal lengths when we compare screens in size. But at the same time, their aspect ratios are rarely taken into account, and these ratios, in some cases, differ from one screen to another. For example, the BlackBerry Passport's display has a ratio of 1:1, which is, basically, a square, while the screen on the iPhone 6 has a ratio of about 16:9, like on a modern TV. And the lower a screen's aspect ratio is (read: the closer its shape is to a square), the larger its area is for its diagonal size. That's why the iPad mini's 7.9-inch display, with a ratio of 4:3, is larger by area than the displays of most other 8-inch tablets around, which have 16:9 or 16:10 ratios.
We're not trying to convince you that the BlackBerry Passport has a better screen than the iPhone 6 because of its unorthodox proportions. That's a subjective matter and depends highly on the user's needs and preferences – with its screen shape, the Passport is more suitable for things like reading emails, browsing the web, or editing documents, while the iPhone 6, with its wide screen, is better at displaying videos and photos, not to mention that it fits more easily in a pocket. We just wanted to point out that specs can be misleading at times, and that one has to look at the entire picture when comparing phones by their hardware specifications. Now feel free to drop us a comment below if you learned something new today.