Fully functional prototype Sony Ericsson Windows Phone up for auction
22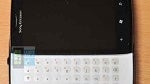 It is a device that almost was. Sony Ericsson almost mixed it up with HTC, Samsung and Nokia during the release that was Windows Phone 7. The company was mentioned as a manufacturer partner at MWC 2010, but as we now know, that developed into almost nothing.
We say "almost nothing" because the now defunct partnership did build some prototype Windows Phones featuring a sliding QWERTY, dubbed the Windows Phone "Jolie."
It is a Windows Phone that never was. Packing a 2010 build of Windows Phone 7, apparently 7 of these prototypes were built and now we see one of them has made it to the auction block of eBay. The seller is in The Netherlands, but is willing to ship internationally (although only within Europe as it is only a tri-band GSM device, so the seller is not willing to ship to the US, but we be money is a powerful persuasion tool). The bidding at the time of this writing was at about €107 ($140).
What do you get if you win the auction? Well not all the specifications are known, but the camera is 8MP, it has 16GB of storage and Julie is unlocked. Like other Windows Phone devices from that time it is probably running a 1GHz Qualcomm CPU. The device is in working condition, but we can see how it might hold limited appeal (do not expect any OS updates...ever).
However, if you truly want to be
the only kid
on the block, here is one angle to look at. If you are interested, click the eBay source link below.
source:
eBay
via
WPCentral