Fujitsu Lifebook concept shows crazy mobile convergence
13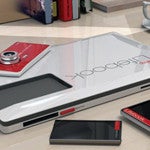 Are you always looking for greater gadget convergence? Is the
ASUS Padphone
just not enough? Did you think Motorola's
Webtop
environment only scratched the surface? Then you'll love Fujitsu's new concept device, dubbed the Fujitsu Lifebook. The keyboard of the Lifebook is actually an embedded tablet, which runs a full-sized touch-sensitive keypad when it's docked with the Lifebook. Pop it out and you have a functional tablet.
But the fun doesn't stop there. The camera on the cover of the Lifebook can pop out to slide into your pocket as a portable point-and-shoot device. And a specially made phone also docks in the Lifebook, sliding into a slot in the front of the device.
According to Fujitsu, docking the phone and/or tablet would not only let them share data, but unlike the Padphone, which powers the tablet with the phone insert, every device in the Lifebook would have its own internal CPU. Better yet, upon docking they would start to contribute CPU power to the Lifebook for greater distributive processing, or to run an app that is specific to the mobile devices.
What operating system would it run? What would charging the device be like? How much would this thing cost??? Good questions all, but as with any concept product there aren't any answers yet. No word on if or when Fujitsu might really make a product like this, but for people who want a single convergence computing device, the future is looking up.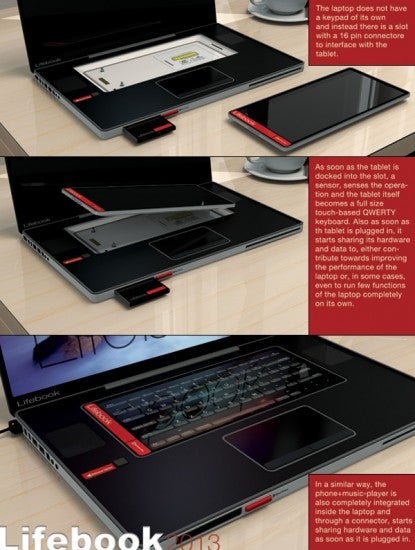 source:
AndroidPIT
via
Android Authority