All future high-end Motorola smartphones to get Webtop docking app
9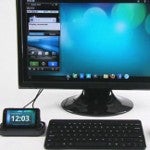 Motorola has heard you loud and clear. Those who started screaming for the Motorola ATRIX 4G after seeing the Webtop dock available for the AT&T branded smartphone, have caught the attention of the manufacturer and its CEO Sanjay Jha. The executive announced at a Morgan Stanley conference that all future high-end Motorola smartphones shipped after June will have a Webtop dock available.
The Webtop dock turns your smartphone into a laptop device and gives you a full desktop Firefox browser to work on with full-desktop like functionality. According to Jha, shipping Webtop on high-end Motorola smartphones is part of a plan by his company to become more software-centric. "We are trying to change the culture at Motorola to become a much more software-centric company," said the CEO, "One of the ways to do that is to bring entrepreneurial people with software skills into the company."
The June start date means that those Verizon customers waiting on the Motorola DROID Bionic will not have the luxury of buying a Webtop dock-at least not immediately upon launch. Jha said that "time constraints" are the only reason that the dual-core powered device won't be
shipping
with the dock. On the other hand, the executive didn't say that a Webtop dock wouldn't be added as an accessory later down the road.
While the Webtop dock that is available for the Motorola ATRIX 4G is optimized for the Tegra 2 chipset on the phone, work has already started on getting the dock to work with the TI OMAP4 processor. The Motorola Mobility CEO also said that an upgrade on the Webtop dock to Firefox 4 will be available later this year.
source:
AndroidandMe