Froyo for all - CyanogenMod 6 brings Android 2.2 to the masses, a video duel between an EPIC 4G and an N1 ensues
15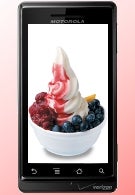 The all-popular CyanogenMod 6 is out of relese candidate status now, and ready to bring Froyo to your rooted oldie-but-goodie Android device. The comprehensive list of supported devices includes the HTC-made
Aria
,
G1
,
Google Nexus One
,
Desire
,
Hero
,
EVO 4G
,
Slide
and
Incredible
, as well as the venerable
Motorola DROID
, and the flagship
Samsung Galaxy S
.
If you have already rooted your device, and want to try the Froyo experience, head over to the forums from the link below. Apart from improved speeds and battery life, the mod brings some additional features compared to the stock Android 2.2. A cool one is the browser color invert (
saves battery life on AMOLED screens, such as the one on the Incredible
), and there are also some music player enhancements, bringing along support for the lossless audio format FLAC. The mod is not without bugs, though, some users report installation problems, which might brick your device, as well as problems with Google services, so use at your own discretion.
In a battle of the operating system versions, the folks over at PocketNow have pitted a Samsung EPIC 4G, running a stock Android
2.1
, against a Nexus One running the latest CyanogenMod 6 Froyo build. The authors ran the Quadrant full benchmark test and examined Wi-Fi and 3G download speeds, but we won't spoil the fascinating battle for you.
source:
CyanogenMod
&
PocketNow