HTC Aria Review
19

Introduction:
For a good stretch of time, the
Motorola BACKFLIP
was the only choice that AT&T customers had to side with if they fancied the idea of experiencing Android. Even though there is now a version of the
Nexus One
that's compatible with AT&T's specific 3G bands, it's not sold through carrier stores domestically and carries a hefty full price tag of $529.99 – making it one hard sell to customers as it will present them with a stock Android experience. Things were beginning to look pretty sour when it came down to Android handsets for AT&T, but thankfully there was a break in the sky as out of nowhere the
HTC Aria
plopped itself onto a lineup that didn't quite breathe a decent Android experience. Bringing along a customized Android experience with Sense in tow, the HTC Aria might be small in stature, but its slim figure might deceptively hide something that's sure to impress any AT&T customers all around.
The package contains:
• HTC Aria
• microUSB cable
• Wall Charger
• Stereo headset
Design:
For anyone who quickly glances at the HTC Aria for the very first time, they may easily confuse it with the
HTC Droid Incredible
as it closely looks similar with its distinct circular optical pad. In actuality, it borrows some design styles in both that smartphone and the
HTC HD mini
– the rear portion is an identical replica to the HD mini. Very well sizing itself up in being the most compact Android smartphone for the US market, we adore its dainty looks that will slip inconspicuously into any pocket without much notice. It may not exude an innovative design, but the soft touch coating all around the handset makes it feel solid as it will repel most smudges and fingerprints. However, we were somewhat taken back by how heavy (3.80 oz) the device feels when you hold it – especially when it radiates a lean design from afar. Regardless, the handset feels well constructed and balanced enough to survive a good dose of punishment from everyday usage.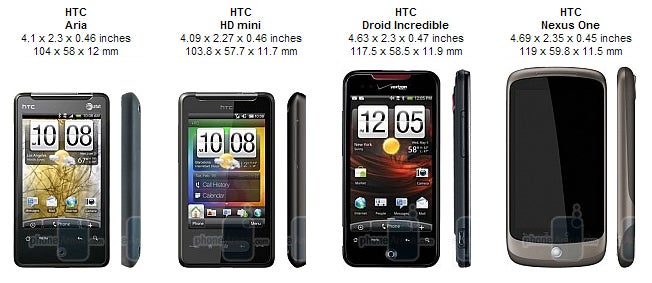 You can compare the HTC Aria with many other phones using our
Size Visualization Tool
.
With some tight corners to work around on the handset, the HTC Aria offers a respectable
3.2" TFT display
which has a resolution of 320 x 480 pixels and support for 262k colors. The limited confines is still more than manageable in working with Android as it's responsive to the touch and does well in displaying natural looking colors – however, the same can't be said about text as is is tiny in stature and require a closeup glance. Viewing angles on the phone are decent as we were still able to see the display in outdoor conditions where the sun was in plain view.
For something so small and every nook and cranny filled with something, we were happy to find a fairly well sized volume rocker and dedicated power button that offered a decent response when touched. Holding the phone naturally automatically allows for a comfortable grip as your fingers don't have to travel far to press either buttons. Just like the Droid Incredible, you'll find the circular shaped optical pad which also acts as a selection button – but we found ourselves rarely relying on it for navigating. The usual four touch sensitive buttons are found directly below the touchscreen which conflicts when typing a message with the on-screen QWERTY – it would've been nicer to move them down further as there is plenty of space towards the bottom of the handset to accommodate them. On the top edge, you can find the usual 3.5mm headset jack while the bottom side houses the microUSB port, microphone, and a small notch for a lanyard. The rear portion of the phone is identical with the one employed on the HTC HD mini with its distinctive four screws while the 5-megapixel auto-focus camera and speaker phone are found squarely towards the top portion. Removing the back cover, you might be fascinated by its internal yellow paint job as you'll be presented access to the battery, SIM card slot, and microSD card slot.
HTC Aria 360 Degrees View: