France Telecom's CEO: Apple iPhone's price could be scaring away buyers in Europe
52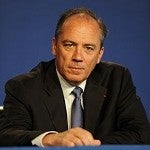 According to France Telecom CEO Stephane Richard, the
high price
of the Apple iPhone is scaring away potential buyers of the device in Europe. Richard says that European consumers are no longer looking to buy the latest and greatest handsetS and instead are looking to save money on cheaper data plans. The executive says that we are in a period of changing customer behavior and Richard's own company has cut rates by 25% over the last three years. The cheapest plan it offers now runs the equivalent of about $26 USD a month and offers free texting and talk and includes 3GB of data. That is about half the price of T-Mobile's $50 plan which gives customers unlimited talk, text and 500MB of data.
There are fewer early adopters, and probably with the next release of the iPhone this will be evident
," Richard said. "
Selling a phone for $600 is getting more and more difficult
."
Richard is making changes to his own company changing the name to Orange, a more popular brand that France Telecom acquired in 2000. Mobile service plans were cut in price by 10% last year at France Telecom with an additional 10% to 12% expected this year. France Telecom also added its own low priced service called Sosh. With this service, customers bring their own phone, agree to receive limited customer service, and get a 40% lower rate for the comparable service from Orange.
source:
Bloomberg