Foxconn to build 5 additional factories for upcoming Apple products
11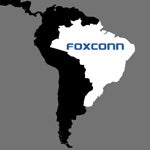 Foxconn will reportedly be building 5 more factories in Brazil – that's on top of the current assembly factory AND the upcoming LCD panel factory already slated for the country. Each factory is expected to employ around 1,000 workers, so local officials are eager to finalize the deal with the Chinese manufacturing giant.
The factories are slated to build upcoming Apple products, as well as notebooks, batteries, and other electronic gizmos. The deal probably needs to finish going through before we jump to any hard conclusions, but it seems that Foxconn is finding a business environment it likes in Brazil.
As Foxconn expands internationally it also gains leverage on China and everyone else, as they may find themselves bidding against another country to try and land (or keep) a Foxconn factory in their economy. Brazil, for example, provided tax breaks to Foxconn to land the initial iPad assembly factory. One can presume that whatever negotiations remain will to some extent include what local governments are willing to offer in order to secure one of the five new factories.
One final question – what new Apple products are going to be built from their under-construction LCD-manufacturing plant? The presumption has been iPads, but it appears that the iPad 3 has
already sourced its LCD screens
. Could this be where the glass for an Apple iTV comes from? We'll probably find out later this year.
source:
Folha.com
via
BGR