Foxconn suicides continue, "silent mode" reinstated at factory
76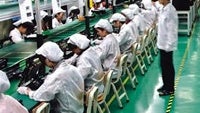 After installing safety nets on buildings, raising wages and putting a facade of improvement, the
suicide streak at Foxconn continues
with two suicide attempts that have allegedly happened in the last couple of days. Two factory workers - a man and a woman - have tried putting an end to their lives by jumping off buildings. The man has died and it's not clear whether the woman is alive.
A 24-year-old male worker jumped off a building to his death on April 24th only two days after getting a job in the factory. Only three days later a 23-year-old female jumped off her sixth-floor apartment and was carried away by medical staff, but employees overheard medics saying it might be too late to save her.
Everything is once again in

"silent mode"
at the Zhengzhou Foxconn factory in China where employees have been forbidden from speaking about anything but work on the factory floor. Even when speaking voices should be low so no one else can hear. Meetings between more than two people are policed and have to happen in specially designated places. Breaking those rules leads to cuts in the salary or downright firing of employees.
Foxconn workers' complaints are about the long monotonous work hours spent in silence. 14 people committed suicide in Foxconn factories in 2010 and after a massive outcry the company was forced to change the conditions of its workers.
source:
MIC Gadget