Foxconn rumored to be re-entering India with new manufacturing facilities
8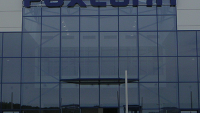 Foxconn, the contract manufacturer known for its assembly of many smartphones including the Apple iPhone, is rumored to be planning a return to India. A report published today cites Devendra Fadnavis, India's Chief Minister of the state, who confirmed that Foxconn will invest a large sum of cash in either Pune or Aurangabad. Fadnavis recently visited China with Prime Minister Narendra Modi.
Other areas in the country rumored to be a possible host for a Foxconn facility include Gujarat, Noida, and Andhra Pradesh. This all dovetails with a "Made in India" program that the current government has pushed since its last political campaign. And the answer to the obvious question is yes, if the factories are built, you could end up with an iPhone manufactured in India.
"India has the world's largest number of cellphones but only 7 percent of these mobile handsets are manufactured in the country. The rest are imported. Foxconn is eager to set up a complete ecosystem with (even) suppliers and not just an assembly line"-Devendra Fadnavis, Indian Chief Minister
To show how serious Foxconn is about opening these plants in India, it has hired former Nokia executive Josh Foulger, who was involved in setting up Nokia's manufacturing facility in Chennai. You might recall that the Nokia factory became a hostage last year in a three-way battle between Nokia, Microsoft and the Indian courts. The Chennai plant was supposed to be turned over to Microsoft as part of its acquisition of Nokia Devices and Services. But Indian regulators refused to approve the factory's change in ownership
until Nokia paid a huge tax bill covering back taxes
on a large number of handsets that were sold. Eventually, the plant was closed along with Foxconn's facilities in the country.
source:
BGR