Foxconn employee detained for smuggling Apple iPhone 6 parts out of the factory
7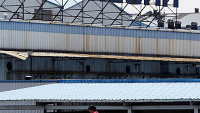 Just a few days before Apple officially introduced the
Apple iPhone 6
and the
Apple iPhone 6 Plus
, we started to see some higher quality leaks, including
video of the device being reviewed in Chinese
. As it turns out, Foxconn employees might have been behind some of this. According to the
Wall Street Journal
, Chinese police "detained" an employee of the contract manufacturer on September 4th. Allegedly, the employee stole iPhone 6 shells from the factory in northern Shanxi province.
A report in the local Communist Party run newspaper said that 40 year old "Qiao" (the suspect's surname) sold six iPhone 6 shells for $960 to an electronic gadget maker in Shenzhen. The employee had answered an ad during the summer from someone willing to pay $160 for each iPhone 6 shell. He smuggled one out of his shirt pocket by leaving the factory at the same time as countless others at the end of the day. He had it sent by courier to an address in Shenzhen, and received his money days later.
Encouraged by how smoothly the initial theft went, Qiao stole five more shells that month. But this time, Foxconn became aware of the shortage and went through video surveillance tapes with local police. They also checked out local courier services. After twenty days of investigation, Mr. Qiao was singled out as the thief. A staff member with the public security bureau in Jincheng said that the agency was working with Foxconn on the matter. He also confirmed that the suspect was being detained.
With tens of thousands of Foxconn workers assembling Apple's devices, keeping things happening inside the factory a secret is a tall order indeed. And thanks to low wages, the temptation is always there for Foxconn employees to make a few extra bucks by stealing parts from the factory, and selling them to others.
Sometimes, it is information that is smuggled out of the factory. As early as March, pictures that were taken allegedly by a Foxconn employee inside one of the factories
showed what turned out to be the exact final design for the iPhone 6
, including the protruding camera, six months before the phone was unveiled by Apple.
source:
JCBCTV
(
translated
) via
WSJ