Foxconn churning out 150 000 iPhone 5s per day already, in preparation for the launch
18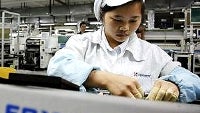 The
next iPhone is being assembled by Foxconn
as we speak, and "supply chain sources" are indicating that the assembler is now making 150 000 units per day, ready to start shipping in volume. This can only mean that the grand unveiling is but a few weeks away, which coincides with the end of September announcement/beginning of October launch rumored timeframe for the iPhone 5.
Largan Precision is one of the lens' suppliers for the
alleged 8MP camera
, the touchscreen components are made by TPK Holdings, G-Tech Optoelectronics are making the tough glass layer for the screen, and two battery vendors - Simplo and Dynapack - are sweating the conveyor belts as if there is no tomorrow to ramp up production.
Total shipments of the next iPhone are expected to reach 5-6 million units in September, destined for the initial launch, and up to 22 million units in the fourth quarter alone. This might seem like a stretch, considering that
Apple, as well as HTC recently reduced component orders
due to the ongoing sovereign debt crisis in Europe, and the expectations for a worldwide consumption slump, but time will tell.
The increased shipments of the iPhone 5 are for the sake of diminished orders for the iPhone 4, of course. Pegatron Technologies, which reportedly scored 15% of the orders, might not chip in with volume shipments until the end of the year, the sources comment
source:
Digitimes