Price drop! Foxconn – Sharp takeover deal finalized at $3.5 billion
2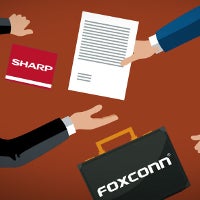 About a month ago, we heard that Chinese smartphone assembler Foxconn, best known for building various Apple products, is
planning to buy Sharp for $6.2 billion
. The deal was nearing a close but was put on hold in the following weeks — apparently, Foxconn got some last minute reports, outlining details of contingent liabilities at Sharp, which could eventually end up costing the company's new owner up to $3.1 billion. Naturally, Foxconn wasn't too thrilled about potentially losing an extra 50% of what it was planning to buy Sharp for, so extra negotiations had to take place.
It is now reported that the two have reached an agreement and the deal is going to be finalised at $3.5 billion – almost half the original price from just a month ago.
A Japanese government-backed consortium of investors did offer Sharp a hand, since Japan is apparently not a fan of some of its largest businesses being sold to a foreign company. The assistance offered was in the form of a $2.6 billion cash infusion and a $1.78 billion line of credit, but ultimately, Sharp's management decided to go for a sale altogether, thus becoming the first major Japanese electronics firm being taken over by a foreign investor.
Initially, Foxconn will get a 66% stake at Sharp, with that number increasing to 72% in July of 2017. The two companies will be holding a press conference on the 2nd of April, reportedly to make an official statement on the takeover.
Foxconn is a smartphone assembler, but not much of a part maker. Thus far, it has made Apple's products after getting all the parts from other OEMs, then soldering and putting them together. Sharp used to be the main source of displays, so in this takeover, Foxconn takes a step towards vertical integration.