Former Windows Phone manager flocks to Google after getting fired for a tweet, promises to reveal all details soon
14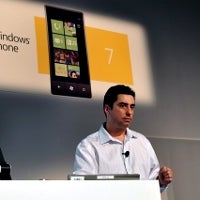 Ex-Windows Phone program manager Joe Marini made it to the headlines two months ago when he
tweeted about the yet unreleased Nokia Windows Phones
, apparently breaching NDA papers signed by Microsoft employees. At that time details about what was to become the Nokia Lumia 800 were not exactly a secret as what seemed a controlled leak by Nokia had showed off the device.
Nonetheless, Marini got into huge trouble after giving an
inside peek at the Lumia
:
"Overall I would say an 8. Solid feel, good camera, responsive UI, and nice little touches on the body construction.Yeah, the camera was good, but I didn't have optimal lighting. I'd like a larger screen too."
That lead to him getting
kicked out of Microsoft
, and straight into Google's arms. The outspoken manager has now taken on the role of a Google advocate with a job centered around Developer Relations, API platforms and HTML5 apps.
What's most interesting, though, is that the manager mentioned that a blog post about what happened at Microsoft is coming up, so we'll definitely be checking his Twitter account again in the near future.